History will be made on April 29, 2011.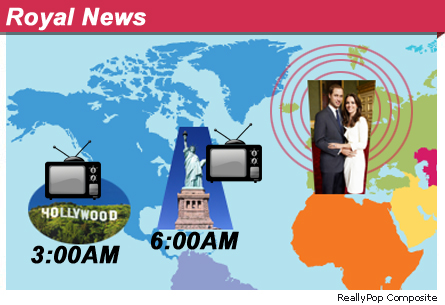 You'll definitely won't want to miss this epic event when Prince William and Kate Middleton tie the knot. But there's one tiny problem -- there's almost no information available about the actual time it's going to go down -- in jolly good ol' US of A time, that is. So let's solve this big mystery here and now.
What will the royal wedding time in the US be?
The Actual Wedding Time:
US West Coast - 3:00 AM PST
US Central - 5:00 AM CST
US East Coast - 6:00 AM EST
Here are a few things all royal fans should definitely note:
If you are also interested in watching everything from the very first start, guests will arrive 2 and 1/2 hours prior to the actual wedding time. As for the Royal Wedding procession, that will begin 30 minutes BEFORE the actual wedding time.
Watch On TV Channels:

BBC America
12:00 AM PST, 2:00 AM CST, 3:00 AM EST
ABC, CNN, FOX, NBC
1:00 AM PST, 3:00 AM CST, 4:00 AM EST
CBS
2:00 AM PST, 4:00 AM CST, 5:00 AM EST
Watch Online:
If you prefer to watch the Royal Wedding online, you'll be able to watch it streaming, broadcasted LIVE right here at ReallyPop.
Tell a mate. Cheerio.
UPDATE: The Royal Wedding Official Program can now be viewed here.